At Tech Advisors, we're more than just your typical IT and Cybersecurity Managed Service Provider (MSP). We're your partners in navigating the ever-evolving world of technology to help Certified Public Accountants (CPAs) stay ahead of the curve. Our mission is clear: to bridge the gap between the CPA profession and the technology that matters most to them.
We are thrilled to introduce our brand-new, one-of-a-kind publication exclusively designed for CPAs - a magazine that is set to revolutionize the way CPAs interact with technology. Our magazine goes beyond the mundane and dives deep into the heart of the industry's latest trends, ensuring that CPAs are well-informed and well-prepared to embrace the future.
Key Features of Our Magazine:
Cutting-Edge Technology Trends: Stay in the know about the latest developments in the world of technology, including cybersecurity, tax software, applications, policies, and procedures. We provide insightful analysis and expert opinions to help you understand how these trends can impact your practice.

Optimizing Business Operations: Our magazine is not just about information; it's about empowerment. We provide practical insights and strategies to help CPAs optimize their business operations for efficient growth. From streamlining workflows to enhancing client services, we've got you covered.

Exclusive Market Research: Tech Advisors is the only IT & Cybersecurity MSP that conducts in-depth market research tailored specifically for CPAs. Our research is at the core of our magazine, providing you with data-driven insights that can shape your decision-making process.

A Community of Experts: Join a community of like-minded CPAs who are passionate about leveraging technology to drive success in their practice. Our magazine serves as a platform for networking, collaboration, and the exchange of ideas.

Your Roadmap to Success: Whether you're a seasoned CPA or just starting your career, our magazine is your roadmap to success in an increasingly tech-driven world. We provide actionable advice and resources to help you navigate the challenges and opportunities that lie ahead.
Tech Advisors is committed to empowering CPAs with the knowledge and tools they need to thrive in today's technology-driven landscape. Our magazine is your passport to the future of accounting, where innovation and efficiency go hand in hand.
Join us on this exciting journey of discovery, growth, and transformation. Explore our magazine, connect with fellow CPAs, and let Tech Advisors be your trusted guide in harnessing the power of technology for your practice's success.
Articles Found In Know! Magazine
(Content Covered For Privacy Purposes)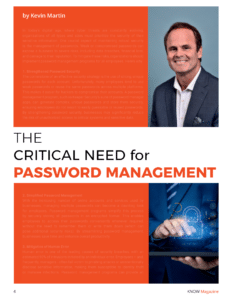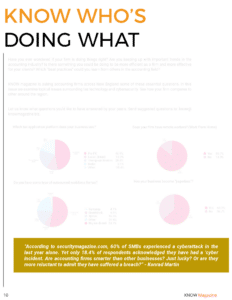 Do You Have Questions About Your IT & Cybersecurity?
Featured Publications For IT & Cybersecurity