Experience Unmatched IT Support With An Award-Winning MSP
Teach Advisors is an award-winning managed service provider (MSP) and managed security service provider (MSSP) who delivers unparalleled support for a wide range of businesses and technology.
We partner as your fully managed IT support team to provide proactive and secure IT solutions that ensure compliance, increased productivity, and reduced downtime, so you can focus your efforts on the operations that grow your revenues.
24/7/365 Support:
We know business stops for no one, that's why our team of technicians are available for your urgent business needs every day, all day, all year.
Our fully staffed support team is available for remote access and same-day onsite emergency support for when you need it most.
Secured Infrastructure:
"The best defense is a good offense" is front of mind when we oversee your IT infrastructure. We implement state-of-the-art security features mixed with industry-leading practices and policies that protect the business from external and internal threats.
Our tech team is consistently monitoring your network for any insufficiencies to ensure your business remains secure and highly operational at all times.
Backup & Disaster Recovery:
Beyond the rising rate in successful network hacks, it's surprisingly common for employees to delete files, folders, and even databases by mistake.
Tech Advisors uses cutting-edge technology to provide your team with a virtual space for continued work during an emergency data recovery operation. Accidents happen and we're prepared!
Proactive Management:
Workstations, applications, servers, switches, and firewalls are just the tip of the iceberg when it comes to managing an effective IT department.
Tech Advisors provides each client with a dedicated account manager to oversee and coordinate strategic updates, upgrades, and implementation for day-to-day service and support, as well as conduct quarterly business reviews with analysis reporting.
Fully-managed support that safeguards your business, optimizes your technology, and provides essential IT, cybersecurity, and compliance services.
Services include:
24/7 User Centric Support (Onsite/Remote/Help Desk)
Advanced Email Threat Protection
Managed Anti-Virus/Malware
Firewall & Endpoint Protection
Advanced Threat Security
EDR & MDR
Cloud Storage & Backup Recovery
Recommended For: Small businesses with less than 10 employees.
Enhanced risk management solution with additional services and support for advanced security and compliance with state and federal regulations.
Services include:
Standard Support Plan Services +
Simulated Phishing
Security Awareness Training
Real Time Compliance Policies
Compliance Documentation
Risk Assessments
Network Penetration Tests
Dark Web Monitoring
Recommended For: Businesses that handle Personally Identifiable Information (PII) or Protected Health Information (PHI) often those in financial, legal, or health-related industries.
Industry leading solution with maximum security and comprehensive support services designed for businesses that need the highest levels of protection with vCISO support.
Services include:
Advanced Support Plan Services +
Comprehensive vCISO Management
WISP Management
Password Vault
Zero-Trust Security Features & Policies
Enhanced Storage
Advanced Backup & Disaster Recovery
Support Service Priority
Recommended For: Businesses that receive regular IT & cybersecurity compliance audits, typically those that handle Personally Identifiable Information (PII), or Protected Health Information (PHI).
Competitive Pricing
Our goal is to provide the best services and the best security at the best price!
Provide us with your invoice and current service plan and we will do our best to beat it in all facets!
36 Point IT Inspection
IT can be a challenging vertical to measure for businesses that have little experience in analyzing infrastructure, security, and support performance.
That's why Tech Advisors provides complimentary inspections and risk assessments that determine how effective the current IT solution is configured as well as the cost-benefit analysis of implementing new features, services, and support.
In our inspection we review 36 critical components of a well-rounded, effective IT solution.
Our goal at Tech Advisors is to provide the most secure infrastructure with preventative and proactive support while maintaining well-documented and well-understood policies and procedures in case of emergencies.
Contact us today to have Tech Advisors provide your business with a comprehensive IT inspection and network evaluation.
Fill out the form below to get started!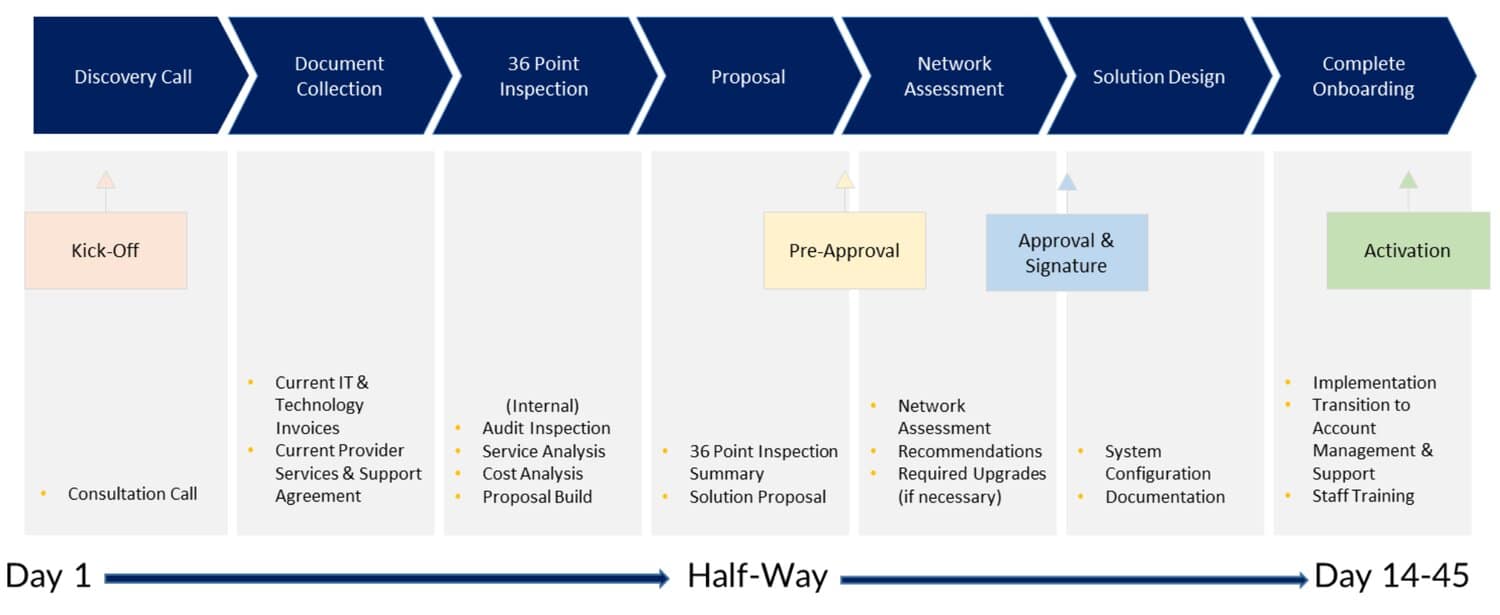 Onboarding is the process in which Tech Advisors gathers information about your current network and IT solution to guarantee a smooth transition when activating our services and support.
Senior level engineers will evaluate the infrastructure and determine if there are any weaknesses or risks to the business before providing an effective solution.
If there are any immediate concerns that need to be addressed, we will provide a plan of approach for resolving those issues with any additional costs associated.
Our goal from start to finish is less than 45 days beginning with our initial consultation.
Is This For Your Business?
Tech Advisors IT managed services are beneficial for all businesses. Our team is frequently reviewing software applications and hardware technologies for many different industries and business structures.
Our remote and onsite support is available nationwide, with same day onsite support provided to the locations and surrounding cities below.
Our clients vary across many different industries, and you can review their testimonials here.
Same Day Onsite Support Locations
Boston Massachusetts IT Managed Services
Springfield Massachusetts IT Support
Providence Rhode Island Managed IT Services
Portland Maine IT MSP
Worcester Massachusetts Managed IT Support
Plymouth Massachusetts IT Services
Concord New Hampshire IT Managed Support
Albany New York IT MSSP
Current National Support Locations
West Palm Beach Florida IT Support Services
Naples Florida IT Management
Augusta Georgia Managed IT Support Services
Detroit Michigan IT Managed Solution
Fort Lauderdale Florida Managed IT
Miami Florida IT Services & Support
Savannah Georgia IT Tech Team
Houston Texas IT Management & Support